As part of Spectra residencies Artist Jenny Dockett has been working with over 300 pupils from 12 school classes across Aberdeen to create a new installation for Spectra Aberdeen Festival of Light, 9 – 12 February 2017. The residencies are an important part of Spectra as they encourage young people to be artists alongside other invited National, International and Aberdeen based artists. Spectra has a footfall of over 35 000.
The inspiration behind the project has been geometry and the platonic solids, creativity and light.
The platonic solids are in the natural world around us. The pollen grain of heather is a tetrahedron; a grain of salt is a cube. Diamonds when found in their natural state are often octahedrons, Iron pyrite can form as dodecahedrons, and the common cold virus is an icosahedron.
In this project the pupils had the opportunity to create their own lantern from these shapes and learn about history and light circuits. They were also inspired by symbols, looking at the most intricately carved symbols made by the Picts, before creating their own unique design for their lantern.
All 300 lanterns were brought together to create large light installation in Seventeen, 15 -17 Belmont Street during the festival. Within the installation the colours of light moved and changed to represent to the changing seasons that our ancestors must have been so aware of in order to survive. The lanterns were hung in a circle to represent the turning of the year and to make a contemplative space. A colour sensing wand within the installation added a dimension which allowed the audience to interact and change the colour of the lanterns.
Jenny Dockett is fascinated by science, art and the early history of the UK.  All of her interests formed this project; Illuminating Geometry.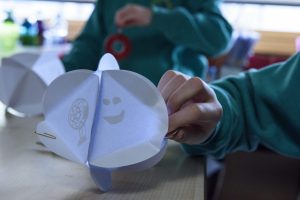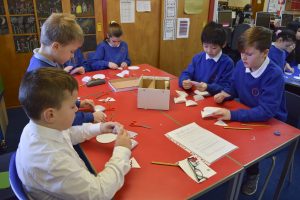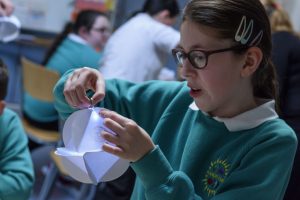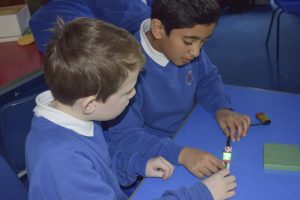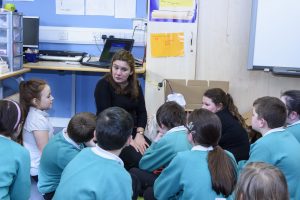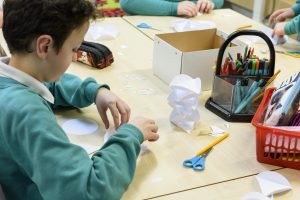 Source: Professional Learning