Duke of Edinburgh Awards:
Adventure Aberdeen organised a very successful DofE Awards Ceremony at the Beach Ballroom on 7th February, with over 130 young pupils attending to collect their certificates.  Twelve centres who are licenced to deliver DofE awards through Aberdeen City Council were represented, including pupils from Bucksburn ASN wing and Camphill School.
The evening was also an opportunity to thank the large number of volunteers who help to ensure awards can be delivered, with the following volunteers receiving awards to recognise their achievements over the last 12 months:
Young Volunteer of the Year Award – Isabelle McTamney (Harlaw Academy)
Adult Volunteer of the Year – Charis Bowie (Cults Academy)
Inspiration Award – Margaret Cooper and Calvin Amalraj (Harlaw Academy)
Adventure Aberdeen were also recognised by ACVO for their commitment to volunteering, by being presented at the end of the evening with a Volunteer Friendly Award.  The Volunteer Friendly Award is a simple, user-friendly quality standard designed by third sector interfaces to support, recognise and reward groups who are good at involving volunteers, and Adventure Aberdeen are very proud join other ACC services in being recognised for their commitment to volunteering.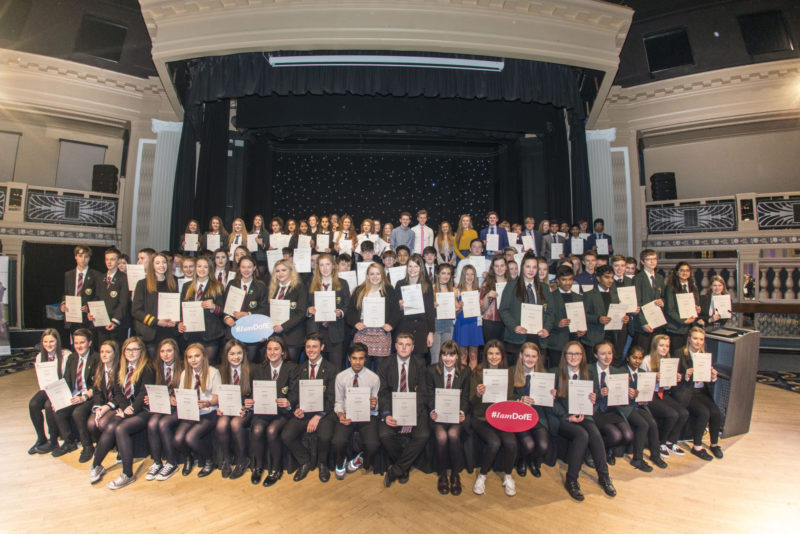 Go Mountain Bike:
It's been another successful year for the Go Mountain Bike programme at Adventure Aberdeen, with over 50 pupils from 9 schools completing awards to develop their mountain biking & cycle maintenance skills along with some rudimentary first aid training.
We are hopeful that funding will continue to offer this programme free of charge during academic year 2017-18, and allow more pupils to learn how to ride mountain bikes safely and responsibly.
Junior Award Scheme for Schools:
Schools in Aberdeen City are continuing to access the Junior Award Scheme for Schools as a means of accrediting the achievements of P6-S2 pupils within the crucial transition phase between primary and secondary school.
Junior Award Scheme for Schools (JASS) is a progressive learning programme which develops the whole individual by offering recognition in four key areas – regular physical activity (Get Active, Stay Active), exploring a personal interest (My Interests), working for the good of the community or the environment (Me and My World) and completing an outdoor activity or challenge (Adventure) and is designed so that participants move from Bronze, to Silver and then to Gold with increasing levels of, commitment, learning, and challenge.
Adventure Aberdeen delivered a workshop on JASS at the recent Learning Festival, which was well attended by school staff from both Aberdeen City and Aberdeenshire councils.  Since the workshop we have had a number of notes of interest from centres interested in delivering the awards, which we hope will build on the existing 5 primary schools and 2 academies delivering the awards to pupils.