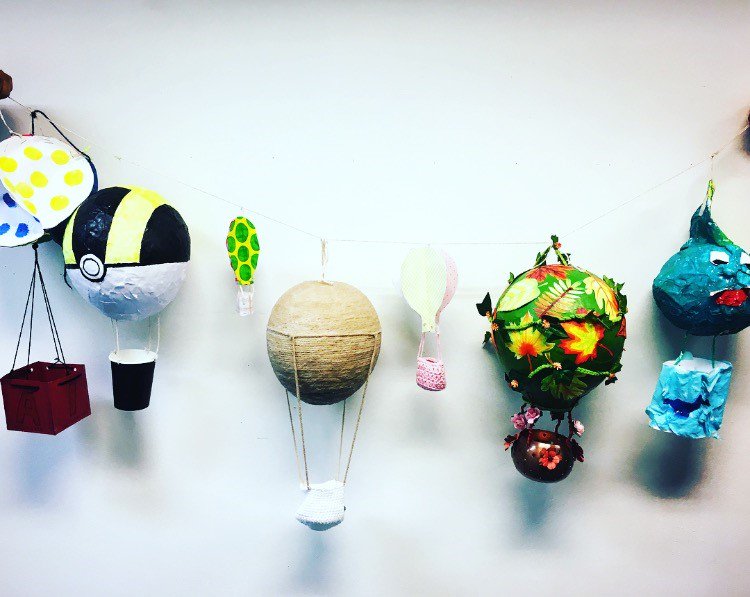 Aberdeen International Youth Festival – Volunteering Opportunity for Young People and Adults
Aberdeen International Youth Festival are looking for volunteers to help support their 'See the World in Aberdeen' creative art project & pop up gallery space. This interactive project has seen 100's of young people from around Aberdeen and the North East get creative and make 3D Hot Air Balloon models.
All of the young people's hard work will be on display in a Pop up Gallery in an empty shop in the Bon Accord Shopping Centre every day from Monday 12th June – Sat 5th August.
We are looking for some volunteers to help make the world go round in our project to represent AIYF, help manage the pop up gallery and keep it open for the public to come in and interact and to help to run events and workshops.
This is a great chance for people of all ages to get involved in AIYF and a chance to learn new skills, get involved in events and customer service as well supporting the chance for young people to get creative. Being part of this project will also qualify for parts of community and volunteering sections of the Duke of Edinburgh, Saltire Awards and other volunteering awards!
We have had entries from all over Aberdeen and the North East of Scotland, including a 3m2 balloon created by the entire Glass Primary School in Huntly, a mobile of balloons representing different countries from Skene Square Primary School to really creative individual balloons and collective Hot Air Balloons made from the Community Links Afterschool Clubs.
"At Hazlehead Academy we were lucky enough to have been given the opportunity to make a 3D Sea Creature which we designed from our imagination.  We were then later given the opportunity to then turn this into a Hot Air Balloon.  Making the sea creature was hard but knowing that they were going to be displayed in an exhibition we kept on going and the results of our sea creatures are way better than we thought they would turn out.  It was a new experience for me and my class but we all enjoyed doing it and decorating them.  We learned lots of new skills like pasting, papier mache, crafting, model making, 3D sculpting, colour ways, patterns and lots more.  We all can't wait for them to be put up in the exhibition as we want to show them off to everyone. "   Hannah Titus 1DA Hazlehead Academy.
Hilary Forbes, a teacher at Hazelhead Academy has added, "I very much look forward to seeing them displayed together in an exhibition as they are all unique and individually reflect the pupils themselves."
Sue Ranton the Area Team Leader for Community Link Childcare has said "The children and staff of Community Link Childcare are very excited to be part of this year's AIYF gallery project. Both children and staff have enjoyed the creative processes of designing and constructing hot air balloons, and are looking forward to seeing their work on show at this year's AIYF gallery exhibition."
If this is something of interest, do not hesitate to get in touch with AIYF on 01224 213 800, email communications@aiyf.org or check out www.aiyf.org/get-involved/3d-hot-air-balloon-competition.
AIYF would like to thank the sponsors who donated prizes for this competition. These sponsors include Lochter Activity Centre for donating water zorbing activities and HJS Helicopters for the helicopter ride.
Source: Curriculum Team Feed