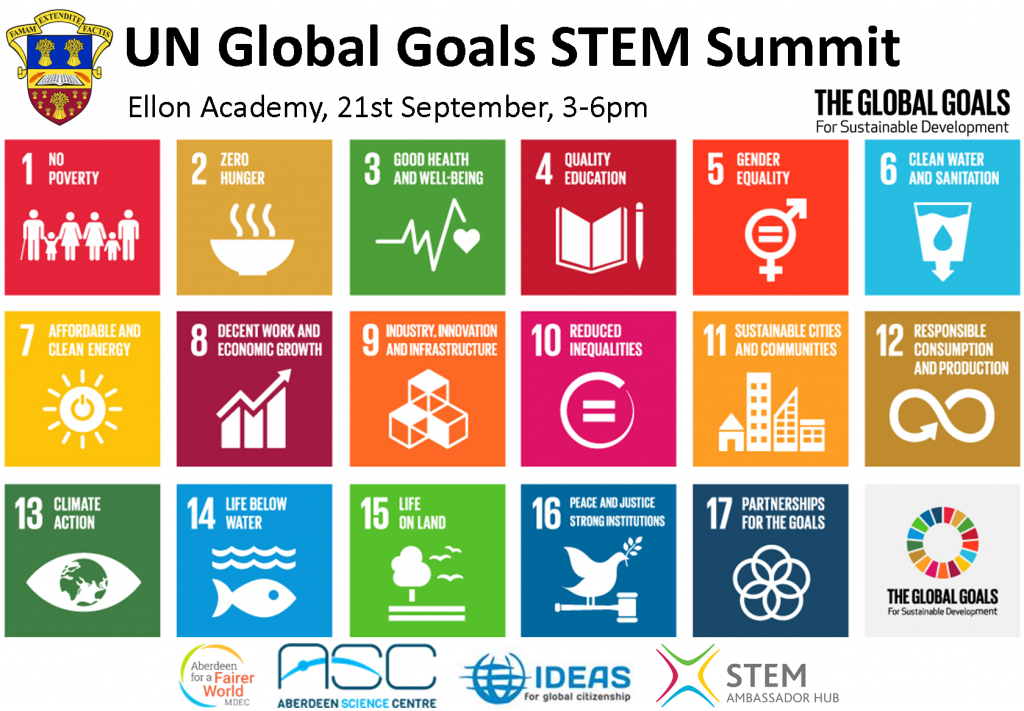 Aberdeen City and Aberdeenshire schools are invited to attend this event which is organised as a collaboration between Aberdeen Science Centre, Montgomery Development Education Centre, and our hosts, Ellon Academy.
The aim of the event is to link the UN Global Goals for Sustainable Development (www.globalgoals.org) to STEM subjects and careers.
The 17 UN Global Goals will not be achieved without young people becoming the scientists, engineers, technicians and mathematicians of the future who shall work to find solutions to global problems.
This  event shall hopefully inspire young people to consider their role in achieving these UN Global Goals by the year 2030.
The event shall provide opportunities to meet with various groups, organisations and individual guest speakers, each of whom shall deliver individual presentations:
Guests:
Sir Hugh Pennington – keynote talk by the eminent scientist, Sir Hugh Pennington CBE, FRCPath, FRCP (Edin), FMedSci, FRSE , emeritus professor of bacteriology at the University of Aberdeen.
Brewgooder (ethical aspect of Brewdog Beers) – Clean water and sanitation.
James Hutton Institute  – Matt Aitkenhead – Soil Scientist
Marine Scotland – Carl Jones, marine scientist
Score Engineering – fabrication and infrastructure
Aberdeen Eco-Hub – David McGrath – sustainable energy & career opportunities
Aberdeen University – Dr Geraldine McNeill – Food Scientist
Baker Hughes GE – Laura Barclay & Li Jiang
There shall also be stalls within the library where young people attending have the opportunity to meet and chat with the speakers as well as interact with representatives from:
Aberdeen Science Centre STEM Ambassadors
International Development Education Association of Scotland (IDEAS)
Eco-Schools Scotland
Vatenfall Wind Turbines
Aberdeen Hydrogen Busses static display
Year of Young People
Fairtrade
This is shaping up to be a great event. Oh, and there's a free buffet tea being laid on!
If you or your pupils would like to attend, please email the details of your pupils / staff coming and your school at: Kim.Hall@aberdeenshire.gov.uk. Only people we have records of in advance can be admitted for safety.
First come, first served – so far we have over 100 young people attending. Room for 150 more!
Also, IDEAS have negotiated with Young Scot who shall award 500 Young Scot points to any young person attending!

Source: Curriculum Team Feed