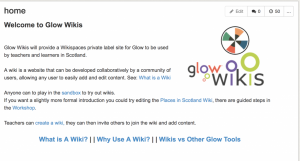 Just before Christmas 2016 we shared the news with you that Glow Wikis would be removed from Glow in October 2017. 
After a detailed review of the service, it was found that usage of Glow Wikis was very low across all Local Authorities over the last two years. A decision has therefore been made to discontinue this service as it does not provide value for money.
We understand that this will impact existing Wiki users, however alternatives exist within Glow to which existing Wikis content could be migrated. These include Glow Blogs and, within O365, other wiki and blog type applications which offer similar functionality whilst still enabling collaboration between Glow users for learning and teaching.
There will, unfortunately, be no automated transfer from Glow Wikis to these services, however it is possible for users to manually transfer content.
At this stage, we therefore encourage Glow Wiki users who haven't already done so, to transfer any content they wish to keep to these alternative services.
While this news may be disappointing to some, we would like to take this opportunity to reassure Glow users of our continued commitment to Glow. A decision such as this has only been made after a thorough consideration of usage, costs and alternative functionality.
Please contact Allan Ryan (Allan.Ryan@educationscotland.gsi.gov.uk) if you have any queries or require support with Wiki data migration.
REPOSTED from Glow Connect
An edit