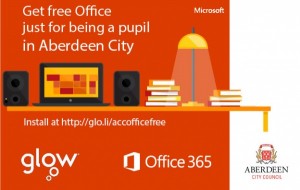 To access these services you will need your Glow username and password.  If you don't know it ask in school for your Glow coordinator.
Through Glow all pupils and staff in Aberdeen City schools have access to the latest versions of Microsoft Office for free.  This includes Office for Windows, Mac OS X and iPad and Android tablets.
Office 365 ProPlus is the full version of Office and includes student favourites like Word, PowerPoint, Excel, OneNote, Outlook and more.
Office 365 ProPlus is a user-based service and allows each student to install on up to five PCs or Macs and five mobile devices.
Office 365 ProPlus can be installed on home and personally-owned devices.
To download your FREE Microsoft Office Pro Plus
When requested, log into Glow using your Username and Password
You will be taken to the software download page. This will recognise if you are on a Windows or Mac based computer.
Click the Install button to download your software.
Run the installation – at this stage you do not have to enter any activation codes.
When you first run the software you may be asked to enter your activation email address.  If you are a pupil or a teacher this will be your-glow-username@glow.sch.uk (i.e. gw08lovecharlie@glow.sch.uk).  Support staff should use the email address: your-glow-username@glowmail.org.uk (i.e. gw12lovecharlie@glowmail.org.uk).
The activation screen will take you to the standard Glow login page – here you enter your username and password and login as normal.
Your software will be activated and will be ready to use.
App based versions of Office are available from the Apple App Store for iOS devices (iPhone, iPod Touch and iPad) and from the Google Play Store for Android devices.
You have licences for FIVE desktop/laptop copied and FIVE tablet copied.
For further guidance please contact learntechteam@aberdeencity.gov.uk