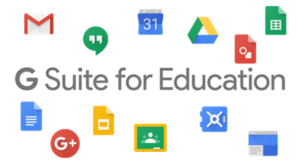 Robert Gordon's College and AppsEvents invite you to the Aberdeen Summit featuring Google for Education.
World Class Presentations
Google for Education Summits run by AppsEvents are engaging, high-energy training events where trainers showcase how schools can make the best use of the Google suite of tools to support pupil learning and engagement as well as how staff can improve their workflow and productivity.  Trainers are all Google experts and many are teachers themselves.  Event attendees are a cross-section of teachers, IT staff, support staff and school leadership. 
Check out the initial speaker line-up here or submit a session proposal.
Go home Google certified
Alongside the main summit on Saturday 22nd September, we are also offering our Google Certification bootcamps as pre-summit courses on Friday 21st September.  Many that attend our bootcamps quickly become Google Certified Educators or Administrators and are qualified to become Google Certified Trainers or Innovators.
About the Google Educator Bootcamp
This course supports staff in passing the Google Educator Level 1 or Level 2 certification exam and also provides a fantastic opportunity to learn about integrating G:Suite for Education and other classroom best practices.  Register here.
About the Support Staff Bootcamp
The Support Staff Bootcamp is designed for non-teaching staff in the main office, finance, admissions and HR departments.  Learn how to save time by improving on the efficiency of your workflows.  Leave the mundane tasks to technology so that you're able to focus on the things that really need your attention.  Register here.
About the Admin Bootcamp
If you're in charge of making sure G:Suite is functioning correctly in your school this event is for you.  You'll learn from an expert about everything you need to ensure a successful G:Suite and Chromebook deployment including top tips in making sure everything is secure as well as third party tools which will make your life easier for batch jobs, reporting, web filtering and more.  Register here.
Register today
Head on over to https://aberdeen.appsevents.com/register to secure your registration.
If you have any questions, or would like to discuss a group rate for 5 or more staff from your school/trust to attend an event, please get in touch with AppsEvents' UK Director, Ben Rouse, by emailing ben@appsevents.com.  
Yours faithfully,
Jess Power (Digital Education Co-ordinator at Robert Gordon's College) and the AppsEvents Team
Apps Events Aberdeen Summit feat. Google for Education
September 21-22, 2018 (Fri & Sat) | Robert Gordon's College